Bathroom remodeling is the second most requested change homeowners want after kitchen remodeling. Remodeling the bathroom must be done right because it's not only about look, but more importantly, it is about functionality and no water leaking issues. Many bathrooms have mold problems, so proper waterproofing, underlayment, tile adhesive, sub-floor bracing and plumbing are just a few examples of where a client can see the difference between a job well done and a job just done. A well-remodeled bathroom will serve a homeowner well for many years.
The first picture below is one of our latest finished bathroom projects. After a demo of the existing shower, we found a bad leak that completely destroyed the sub-floor and one of the floor joists. Complete rehab of this area was necessary. We doubled floor joists, installed new sub-flooring and made the new shower area larger. We had to completely redo the plumbing and added a new distribution valve to ensure there is the option for a head shower and a hand shower. The wall niche is big enough for all shower supplies. Proper insulation, underlayment and waterproofing is key to a successful bathroom renovation. This project used large tiles for the walls and a mosaic tile for the shower bed where the right slope is a  clean modern shower bench. The frameless glass enclosure is today's standard. The homeowner chose a custom vanity with matching mirror frame. Vanity lights installed on the mirror give the room much more brightness. A freestanding bath is also in the bathroom on the opposite wall from the shower. Everything is designed to function well!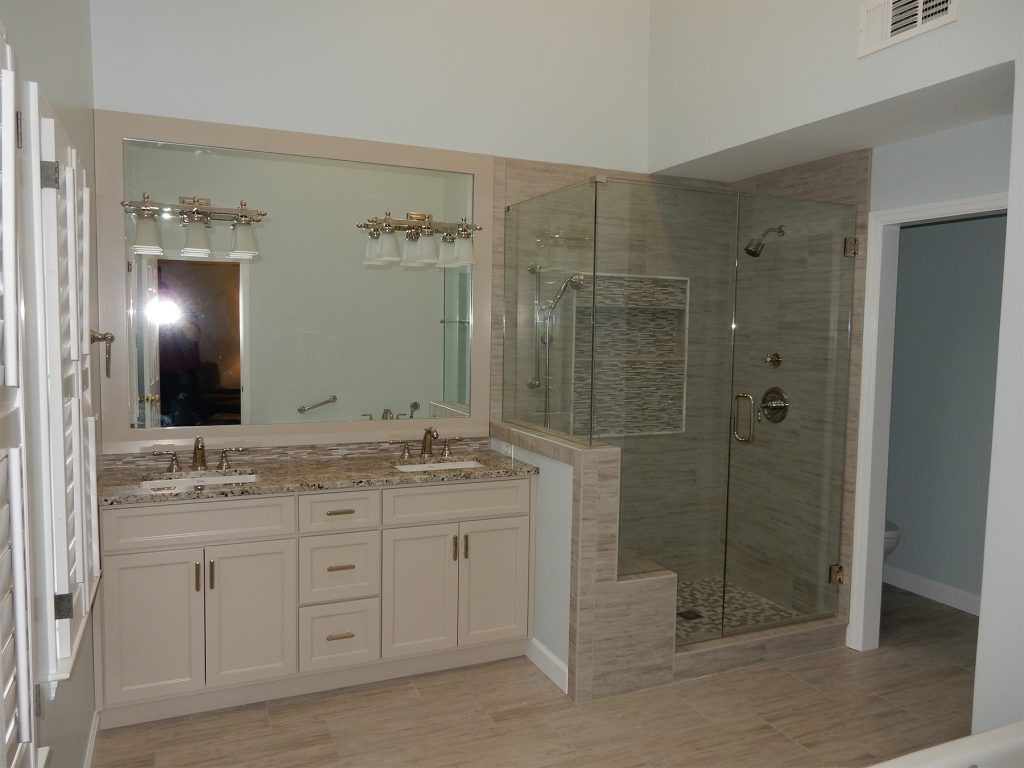 In the next photo we show a more luxurious master bath remodeling project. It features a freestanding relaxing bathtub using high-end material and a large shower with steam valves. You can see the large shower head mounted directly to the ceiling. White tile and timber beams provide a luxury, spa like environment. A wider bench in the shower provides comfort to enjoy a steam cycling system. A frameless glass door is the last finishing touch for an absolute flawless bathroom. Part of this space is also a his and her closet with a custom shelving system and pocket entry door to maximum space.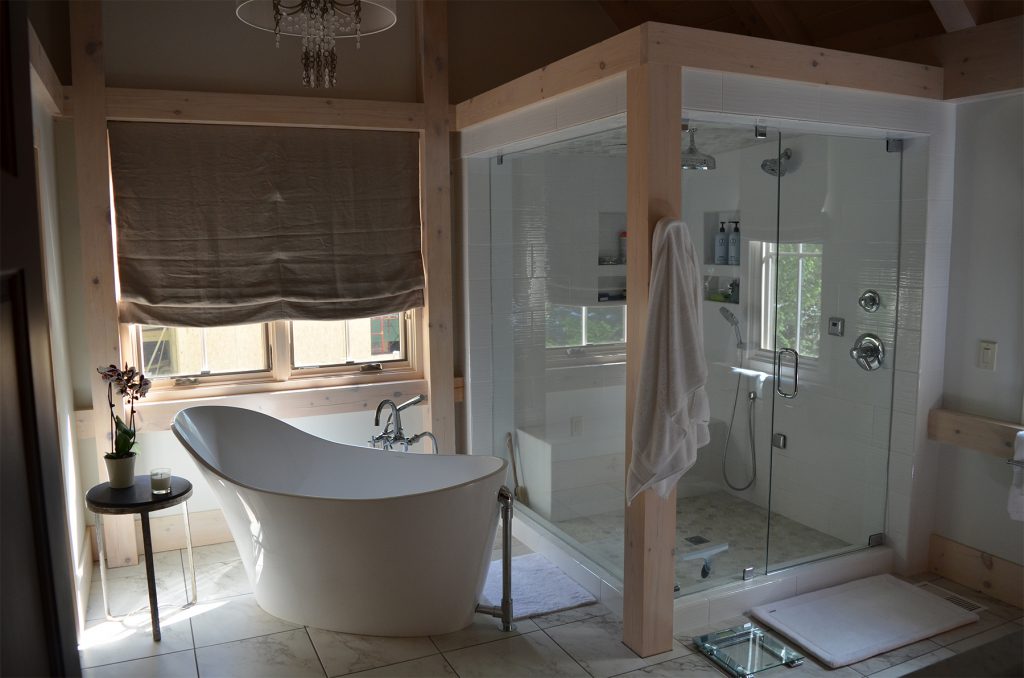 In the next photo you see a double vanity cabinet with nine drawers and a marble countertop that provides enough room for two adults. Two good sized windows provide the bathroom with lots of natural light and custom window treatments add style and privacy.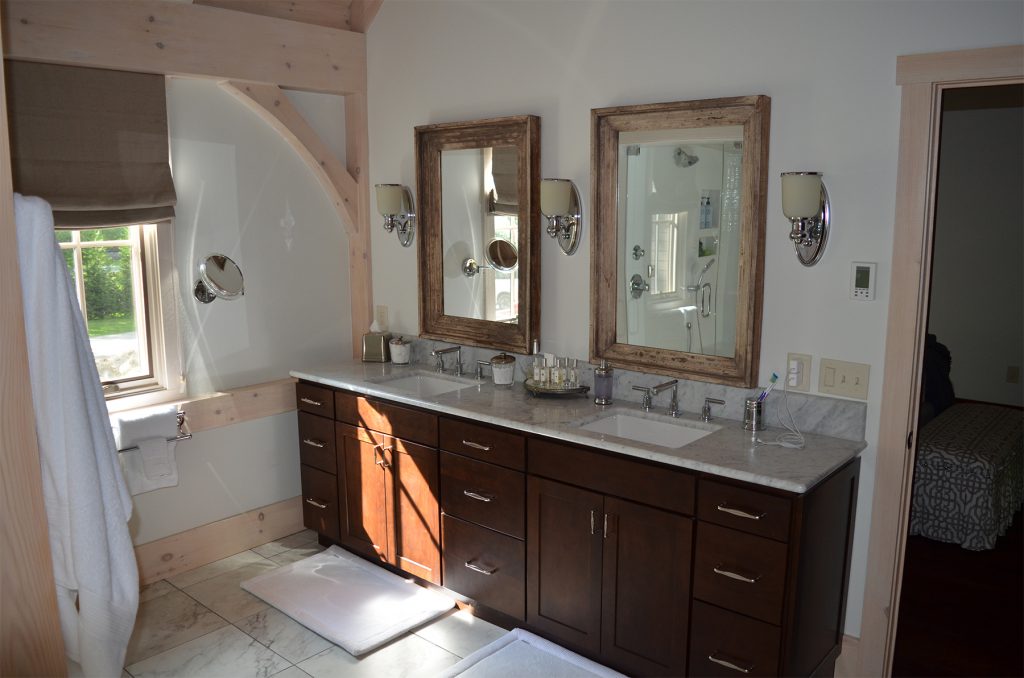 The picture that follows is from a Whole Home Remodel we completed. We encourage you to see the larger services we are capable of, along with a customer review video, to give you to comfort you need to work with our company.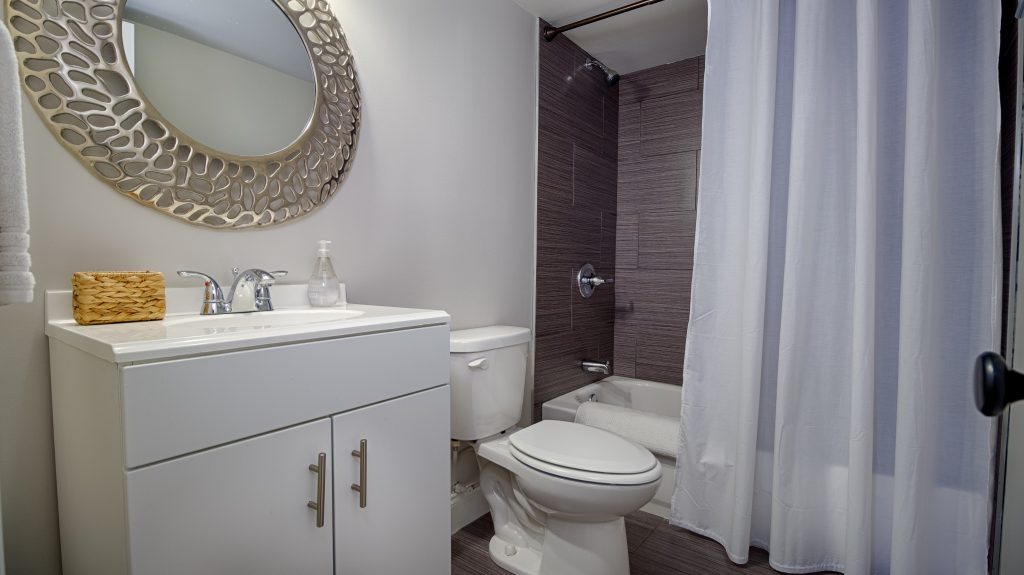 Contact us regarding your bathroom renovation project. We can help you turn your ideas into your perfect space!