Kitchen remodeling is one of the biggest and most important changes in every home. It reflects the homeowner's dreams, needs, style, and wishes. The perfect kitchen has a well-balanced design so it fits everyday usage. Space must also be practical and easy to maintain.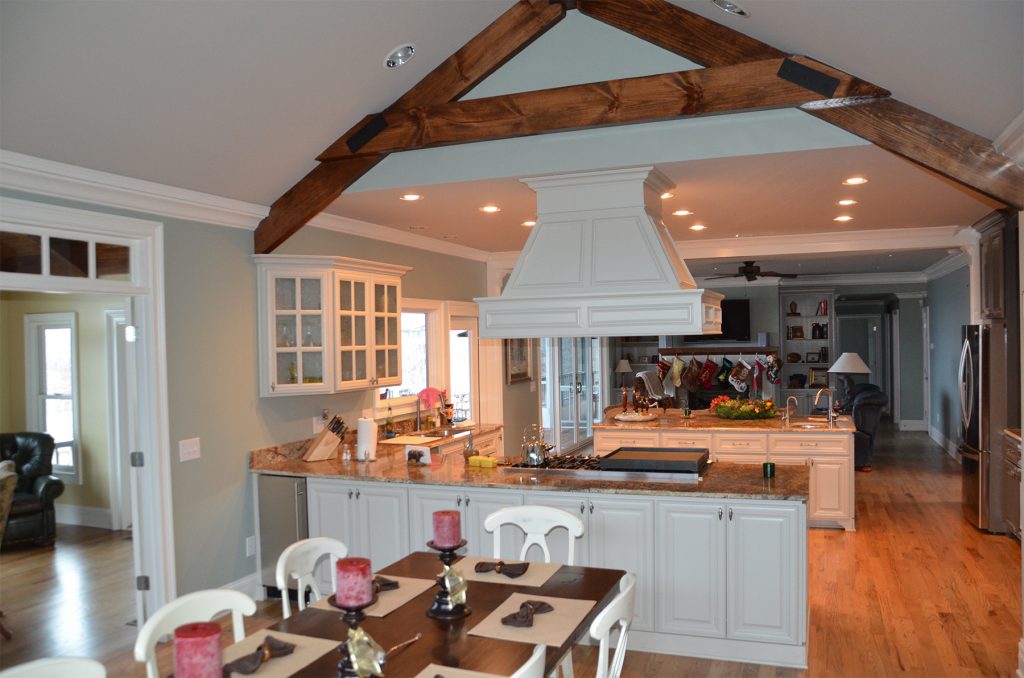 Our first picture above represents the latest design hit – one big open space – even though we finished this project a few years ago. Yes, that demonstrates Original Builders is always a step ahead! You can see it flows well – from prep area to the refrigerator to the cooking area. You do not need too many steps and you are everywhere, but without being stuck between two countertops. As you can also see it has a well-designed space between the cooktop area and kitchen island which will allow more people to assist and also the person who is preparing the meal will not be separated from rest of company. The rustic beam on the ceiling smoothly separates the kitchen and dining area, making a nice contrast and giving a warm feeling of nature. Raised panel doors and panelings are one of the high-end cabinet designs used all over the country. Higher cabinet bases, detail orientation, two color tones and matching countertops make your kitchen beautiful and in style for many years to come. And here is a fun fact – this kitchen was our first kitchen remodeling project ever!
The picture that follows is from a Whole Home Remodel we completed. We encourage you to see the larger services we are capable of, along with a customer review video, to give you to comfort you need to work with our company.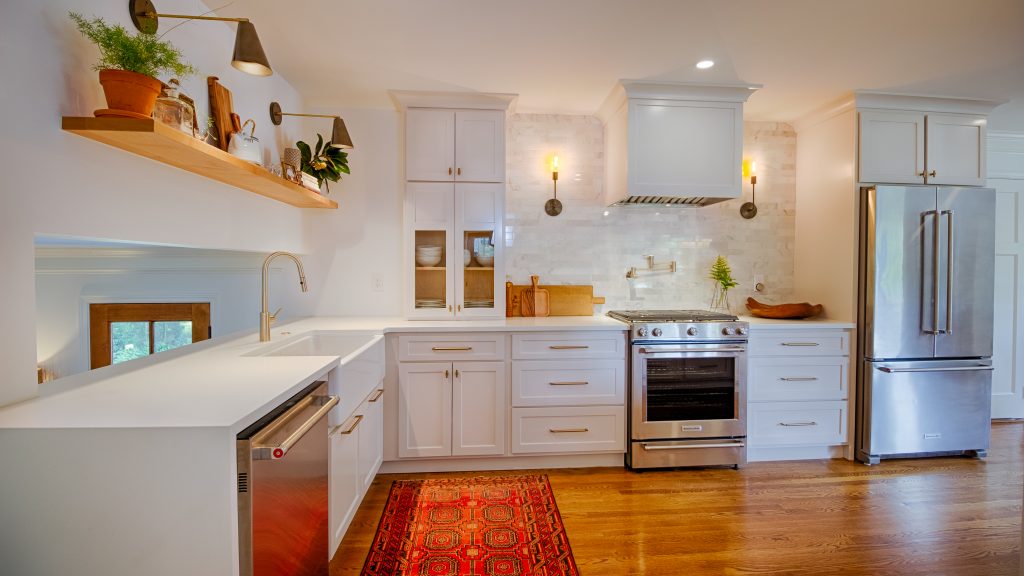 In the next picture, you see a different style that we also do. This cabin kitchen is part of a timber log house we built in 2014. The kitchen island is a contrast of painted cabinets and rustic posts with a combination of black granite. Beams on the ceiling are actually a flooring system from the second level. If you look at the detail on the left, the range has some unique stone work and a 95 year old oak beam delivered from an old barn in Kentucky. The range hood is hidden in the wall in stone work. We have matched the island detail with the refrigerator cabinet unit and built in additional columns. Alder wall and base cabinets in the corner give a warm feeling, lots of space and a nice look. The decorator did a great job with finishing the space. What you do not see in the picture is the cooper farm sink with a window view of the river. Who wouldn't want to spend their weekend here!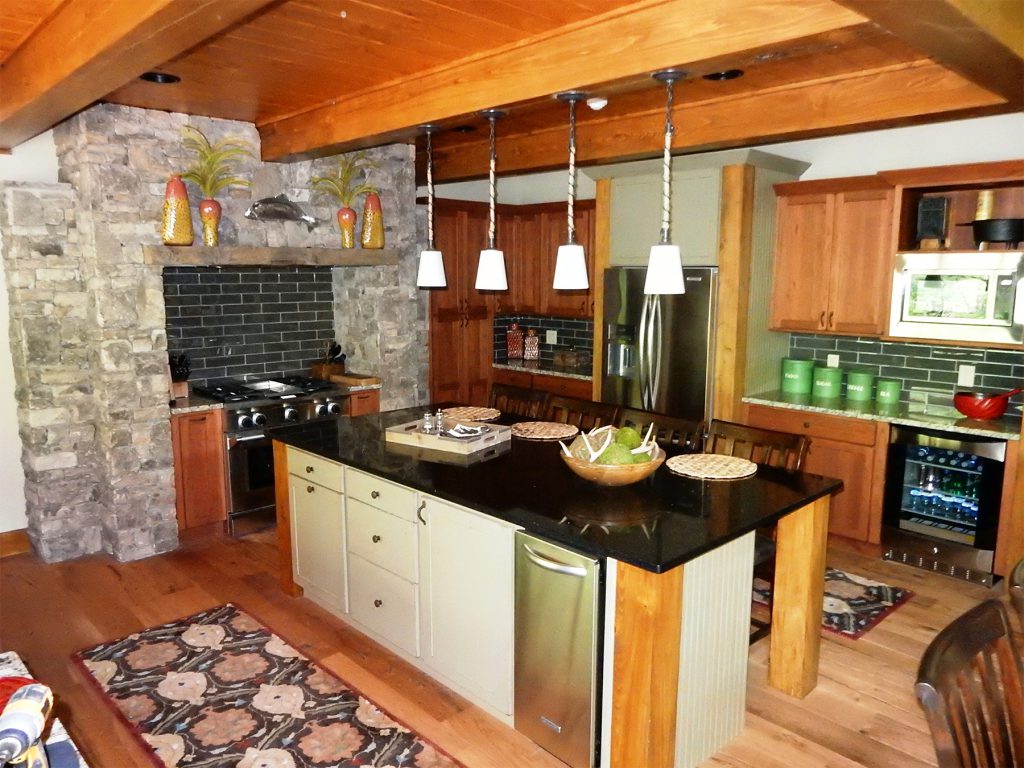 The next picture represents a kitchen remodel that was done in a short period of time. Everything is on-site and the family was able to enjoy their new kitchen in about week. The cabinets were a complete refinishing process, from hardware replacement, to door replacement and repairs to new painting. Some of the top cabinets got new glass doors for a fresh look. Some of the appliances were replaced. The original refrigerator cabinet unit with a wine rack cabinet has been completely re-trimmed. We added additional crown molding on top of all wall cabinets and finished painting. The kitchen also got a new granite countertop as well as a backsplash. The small kitchen office space perfectly matches with the rest of the area and gives a huge amount of counter space for large gatherings. Recessed lighting is a must in today's kitchen.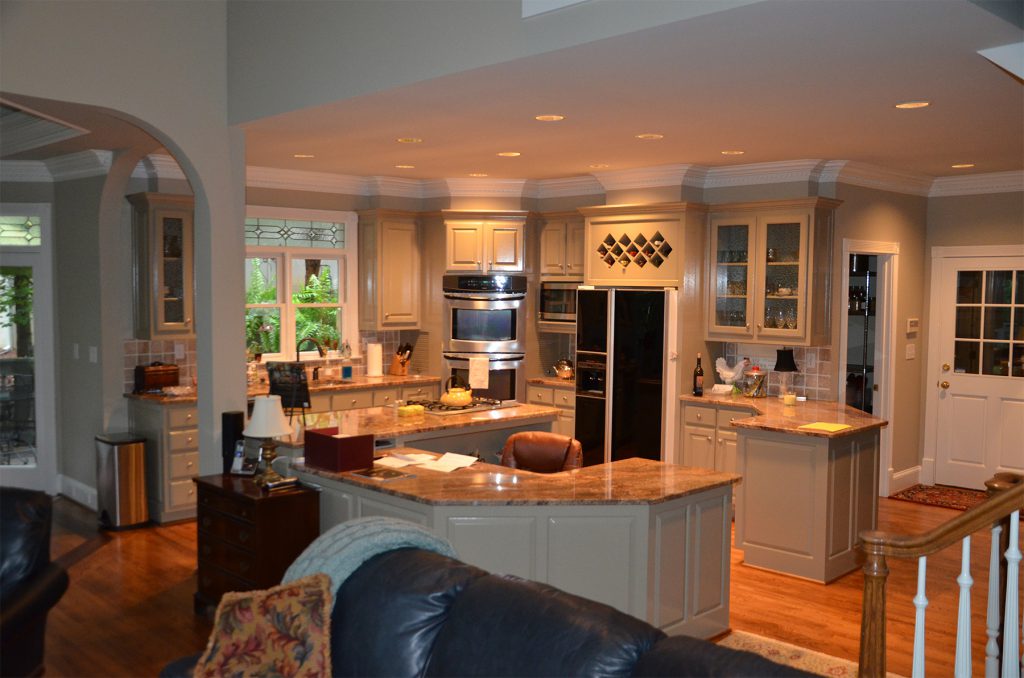 Let's get started on your kitchen remodeling project! Contact us today to schedule a consultation.